New Alternative for Farm Insurance Looks to Provide More Choice for Farmers
An article written by AgriLand.ie, Ireland's largest agricultural news publisher, journalist Charles O'Donnell.
A new alternative for Farm Insurance is looking to provide more choice for farmers, covering everything from farm buildings, livestock, farm machinery and on-farm homes.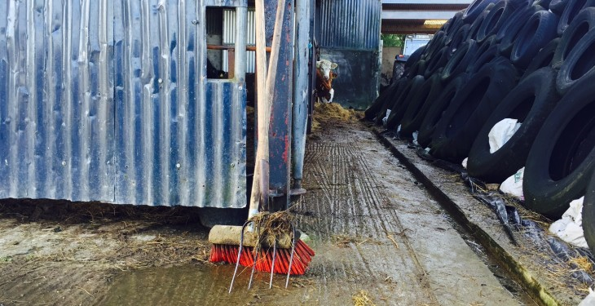 The insurance product is provided by An Post Insurance as an intermediary, and is underwritten by AXA Insurance DAC.
An Post Insurance Farm Insurance allows farmers "pick and choose the cover they want, or what is necessary for their farm and their needs", according to Dominic Kelly, Sales Manager for An Post Insurance.
You can tailor the package as you need it.
"Typically, farmers are looking to cover their farm property, their livestock and any outbuildings on the farm. You can also insure your tractor, your jeep or other farm machinery you may have. Of course, we can also cover the farmhouse and its contents."
Another important cover for farmers is public liability.
"If one of your animals breaks out on to the road and causes damage to somebody's property or if someone injures themselves while on your land, you can protect yourself with public liability cover of up to €6.5m with our policy," Dominic explained.
As well as ringing up An Post Insurance and looking for a quote, when farmers are in any An Post office for essential purposes, they can give some details at the Post Office counter, and An Post will pass these details to An Post Insurance who will then call them to discuss their needs and offer them a quote. An Post will also have information brochures about the insurance product in their offices nationwide.
"There's a good crossover between the Post office customer base and farming, rural communities. Many farmers are in their local Post office a weekly basis," Dominic noted. "So now with our offering they can combine this visit with the opportunity to learn more about the An Post Insurance Farm Insurance product."
We see it as a competitive offering… You can tailor the package to suit your needs as a farmer. Every single farm is different. Every farmer's needs are slightly different. Our policy is designed so you can pick and choose the covers that are suitable to you.
In these extraordinary times due to Covid 19 restrictions, getting face to face advice on your Farm Insurance needs can be difficult. But rest assured, An Post Insurance will be available to answer any question that you might have. You can learn more about their product and get a quote by calling them in their call centre in Athlone on 1890 22 22 22 or by clicking here.
Acceptance criteria, terms & conditions apply. One Direct (Ireland) Limited, trading as An Post Insurance, is regulated by the Central Bank of Ireland. One Direct (Ireland) Limited is a wholly owned subsidiary of An Post. An Post Insurance Farm Insurance is underwritten by AXA Insurance DAC.
All the information on this blog is published in good faith and for general information purpose only. While An Post Insurance makes every effort to ensure that the information appearing on this blog is accurate and complete, it does not make any warranties about the completeness, reliability or accuracy of this information, whether express or implied, including but not limited to implied warranties of merchantability, fitness for a particular purpose or non-infringement. Any action you take upon the information you find on this blog is strictly at your own risk. An Post Insurance will not be liable for any direct, indirect or consequential losses and/or damages in connection with the use of, or action taken in reliance on information contained in our blog.
Through this website you are able to link to other websites which are not under the control of An Post Insurance. We have no control over the nature, content and availability of those sites and if you click on links to these websites you will be subject to the terms and conditions of those sites. The inclusion of any links does not necessarily imply a recommendation or endorse the views expressed within them.