Firework Friendly Tips for our Four-Legged Friends this Halloween
All facts in this blog were provided by experts in The Vet Connection who operate the An Post Insurance 24-hour Vet helpline.
Fireworks can be the cause of a lot of stress for our furry friends during the Halloween period. Planning and following our top tips, can help firework fears be less stressful for all involved.
For our canine companions
It's important to keep a few things in mind when taking your dog for a walk. Try to plan your walks during the daytime when there are fewer chances of fireworks going off. Sudden loud noises from fireworks can scare your dog, making them run off in fear. Make sure your pet's microchip information is up to date at all times.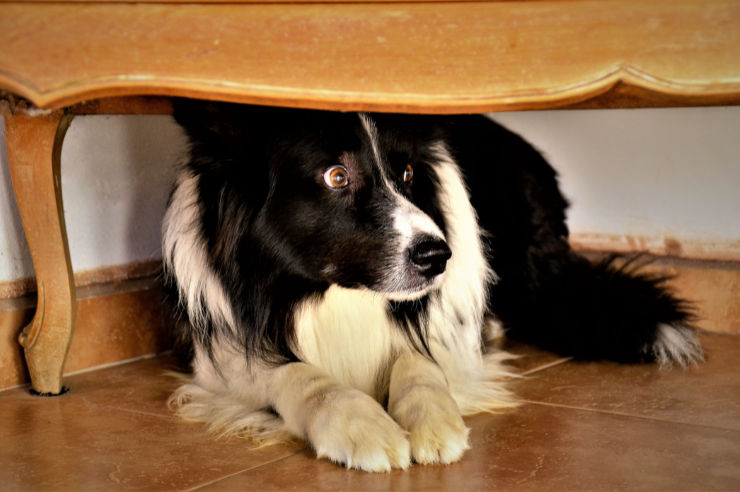 Creating a safe and quiet place for your dog can be a helpful distraction. If your dog is already crate trained, their crate can feel like their safe space. Make sure this space is always connected with positive experiences and never used for punishment. Put the crate in the quietest part of your home and cover it with blankets to reduce any noise or flashing lights from fireworks.
You can also keep your pet engaged with their favourite toys. Keep the crate door open so your dog can escape to wherever they feel most secure, which might not always be where you've set up the crate. Provide them with multiple hiding spots around the house, but make sure there's no way for them to escape outside, as that could put them in danger.
When it gets dark, close windows and curtains, and turn on the radio or TV to help mask the noise and lights from fireworks. Remember to remain calm and not react to the fireworks noises yourself, and never scold your pet if they get scared.
If you're having a tough time dealing with fireworks over the Halloween period, there are various helpful products that can make things easier for both you and your pet.
Adaptil diffusers and collars release a synthetic pheromone that can soothe your pet and help them relax.

Zylkene and Yucalm are natural calming treatments that you can give to your pet daily. They can help reduce anxiety and stress. If you need a quicker effect, you can use Adaptil Express stress relief tablets, which can start working in as little as 2 hours.

Hugging vests like Thundershirts are also available. These vests provide a comforting, hugging sensation for your pet, similar to swaddling an infant. The gentle, constant pressure they apply can help calm your pet in situations of anxiety, fear, or over-excitement.
Some dogs may respond well to one or a combination of these aids. However, if your pet is experiencing severe issues, it might be a good idea to talk to your vet about the possibility of a behavioural referral.
For our Feline friends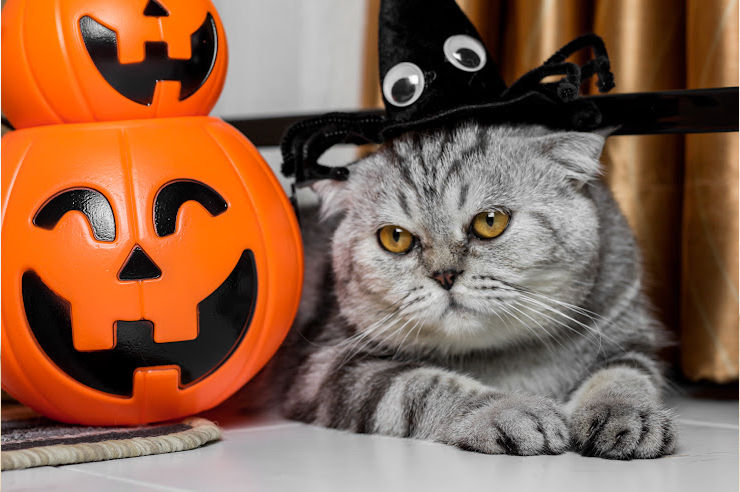 It's a good idea to keep your cats indoors during the evenings when fireworks are likely to go off. For outdoor cats, be sure to provide litter trays as an alternative. Keeping outdoor cats indoors can be stressful for them so make sure to check that their toilet habits haven't changed.
Cats can get quite jumpy when they're startled, so it's important to keep them inside for their safety. Ensure that cat flaps and any other openings are locked to prevent them from escaping onto a road if they get spooked. Create cozy hiding spots for them by putting blankets in cardboard boxes and placing them in quiet areas of your home. If your cat prefers to hide under the bed, let them be. Trying to control where they hide can cause more stress, so don't restrict them to a single room.
Once it's dark, close windows and curtains, and make sure your pet's microchip information is up to date at all times.
There are various calming aids available for cats, such as:
Feliway diffusers and sprays, which release a calming pheromone to help your cat relax. Use diffusers in areas where your cat spends the most time and away from radiators. Sprays can be applied to bedding or scratching posts.

Zylkene and Yucalm are natural calming supplements that can be given daily by mouth or mixed into their food. You can use them on their own or in combination with another calming method like Feliway.
An Post Insurance Pet Insurance includes a 24-hour helpline, which is operated by The Vet Connection 365 days a year and gives policy holders access to their national network of Royal College of Veterinary Surgeons registered veterinary nurses. Policy holders can call one of their Registered Veterinary Nurses on 01 913 1067 for advice at any time.

An Post Insurance Pet Insurance is arranged and administered by Cover-More Blue Insurance Services Limited and underwritten by H.W. Kaufman Group Europe BV, trading as Cranbrook, on behalf of the insurer, Sava Insurance Company.
All the information on this blog is published in good faith and for general information purpose only. While An Post Insurance makes every effort to ensure that the information appearing on this blog is accurate and complete, it does not make any warranties about the completeness, reliability or accuracy of this information, whether express or implied, including but not limited to implied warranties of merchantability, fitness for a particular purpose or non-infringement. Any action you take upon the information you find on this blog is strictly at your own risk. An Post Insurance will not be liable for any direct, indirect or consequential losses and/or damages in connection with the use of, or action taken in reliance on information contained in our blog.
Through this website you are able to link to other websites which are not under the control of An Post Insurance. We have no control over the nature, content and availability of those sites and if you click on links to these websites you will be subject to the terms and conditions of those sites. The inclusion of any links does not necessarily imply a recommendation or endorse the views expressed within them.