Spring Clean with a Difference – Improving Your Home's Usability
It's that time of year again: the sun is shining, the days are getting longer and we're starting to notice those dusty surfaces or cobwebs in the corner. The annual spring clean might feel a little different this year, as many of us are still working and studying from home. It's still a good idea though as tidying and freshening up the house can improve our air quality and peace of mind, and also help us adapt our spaces to better suit our changing situations. We've put together five great tips to make the most of your home this spring.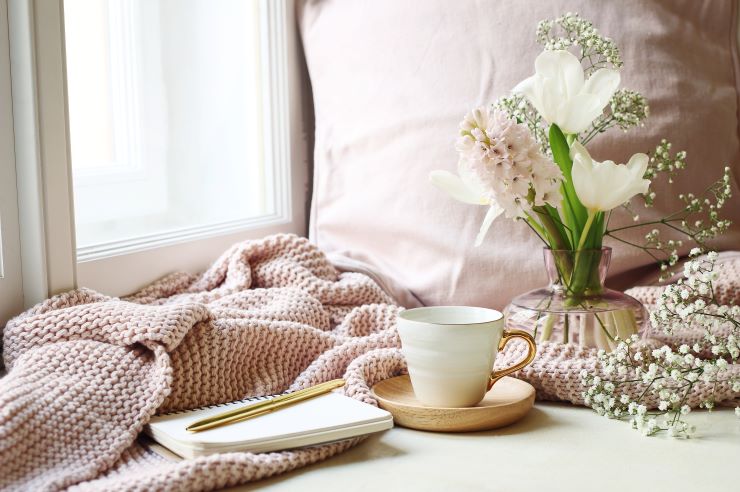 Clear Your Space
Whether you're preparing for work or home-schooling, once you've chosen a suitable workspace, ensure it's cleared out and uncluttered. If there's a lot of clutter, go through each item and decide whether it's important to keep it. Ask yourself, do I use this often, is it something that's of high sentimental value or could it be donated or dumped? If you don't have a dedicated room for work/schooling, consider using foldable chairs and desks during the work/school day so they can cleared away. That way, you can get your home space back each night.
Use Available Wall and Door Space
Thespruce.com have some handy tips to make better use of the space you have, such as using your walls or doors for storage. Hooks could be added to the wall to hang corkboards for work or school, with your timetable and notes in clear view beside your workstation. You could also hang temporary furniture like fold-up chairs or tables that can be stored away when not in use. Shelves and over-door hangers could also be installed in smaller areas of your home to hang things like kitchen utensils, jewellery or even clothing. Check out Thespruce.com for more details.
Double Functioning Furniture
Choosing furniture with more than one function can be very handy. Instead of a coffee table, a storage chest could work well, doubling up as a seat and also somewhere to store magazines or extra blankets in your living area. When guests are permitted to visit again, sofa beds or day beds are a great alternative to a full-sized bed so you have lots more space when they're not required.
Mount Your TV to the Wall
TV cabinets can take up quite a bit of space in your living room. This area could be used for more seating or storage. Mounting your TV to the wall and adding some shelving for your entertainment equipment could open up your room more, giving you back this valuable space and creating a useful feature wall in your living area.
Make Clever Use of Your Space
Housebeautiful.com has some great advice on adapting any architectural quirks in your house, such as radiators by the window – these can be covered by a nice radiator cover and cushions for a cute little reading area. If you have a wide windowsill you could add cushions to make it into a window seat, providing more seating and creating a little oasis for relaxing while taking in the scenery outside.
Check out some of our other blogs for more handy advice and top tips on cleaning, decluttering and making your home work for you: Getting Summer Ready for the New Norm | An Post Insurance and 5 Simple Tips to Make Your Home Classroom-Friendly | An Post Insurance
An Post Insurance offer great value Home Insurance. Let us protect your house, while you make it a home. Get a quote now.
An Post Insurance Home Insurance is underwritten by Aviva Insurance Ireland DAC.
All the information on this blog is published in good faith and for general information purpose only. While An Post Insurance makes every effort to ensure that the information appearing on this blog is accurate and complete, it does not make any warranties about the completeness, reliability or accuracy of this information, whether express or implied, including but not limited to implied warranties of merchantability, fitness for a particular purpose or non-infringement. Any action you take upon the information you find on this blog is strictly at your own risk. An Post Insurance will not be liable for any direct, indirect or consequential losses and/or damages in connection with the use of, or action taken in reliance on information contained in our blog.
Through this website you are able to link to other websites which are not under the control of An Post Insurance. We have no control over the nature, content and availability of those sites and if you click on links to these websites you will be subject to the terms and conditions of those sites. The inclusion of any links does not necessarily imply a recommendation or endorse the views expressed within them.