How Your Pets can Benefit Your Mental Health
All facts in this blog were provided by experts in The Vet Connection who operate the An Post Insurance 24-hour vet helpline.
Taking care of our mental health is just as important as our physical health. Just like the weather, our mental health changes and varies, which is completely normal. Whatever we are feeling is okay, but when we're happy on the inside, it shows on the outside too.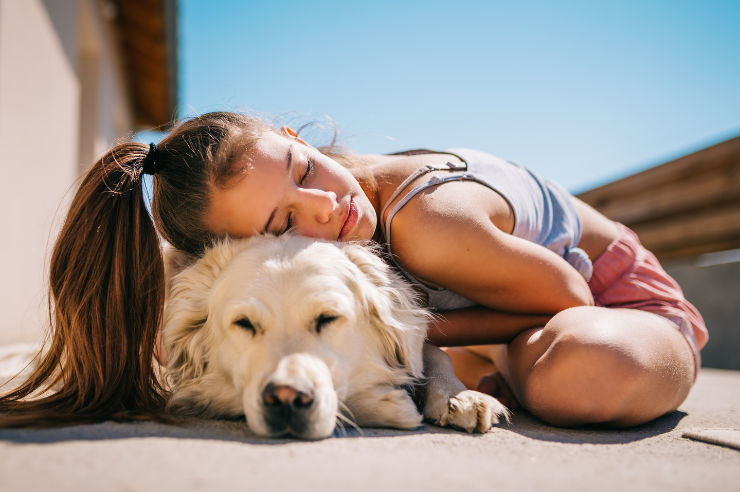 Amid the chaos of today's world, our furry companions offer more than just cuddles and love; they genuinely boost our overall well-being. As pet owners, we've had a hunch about this for a while now, and the growing body of evidence backs us up — pets are good for us.
Children's mental health benefits
Children who have a furry friend at home get some extra perks – they become more sociable, emotionally aware and even do better in school. The magic seems to work best for little ones under six and older kids over ten, especially when there's a cat or dog around. These animal pals not only give psychological support, but also foster a positive self-image.
All these benefits help children grow up more self-assured, improve their grasp on social skills and learn responsibility. These life skills come in handy for handling stress and adapting to changes in our everyday lives.
Adults and seniors' mental health benefits

The mental health perks for grown-ups and seniors who have pets are truly remarkable. Ask any dog owner, and they'll tell you that having a furry friend improves their physical activity. Just taking the dog out every day gets us walking or running and often those walks help with isolation and communication as there are always other dog walkers out and about.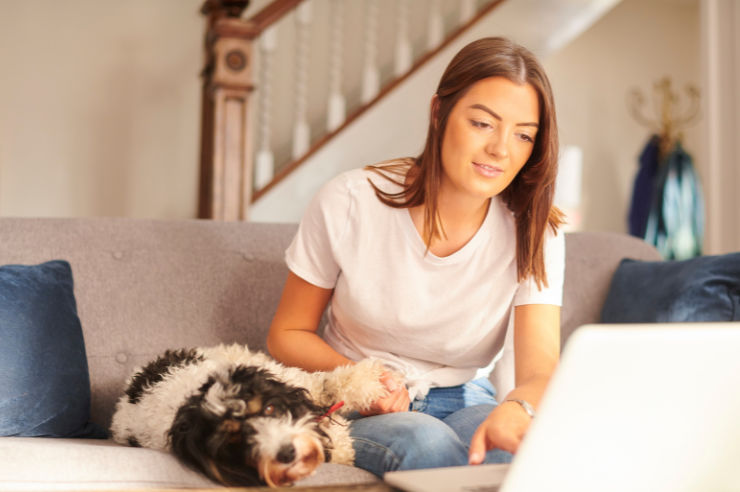 Adult pet owners generally have healthier responses to stress. They have lower heart rates and blood pressure, and they bounce back faster from minor stressors compared to those without pets.
For some older adults, loneliness can be a real struggle. Persistent loneliness takes its toll on mental well-being. But forming a strong bond with your pet is like a social lifeline, reducing feelings of isolation and reducing loneliness levels.
Spending quality time with animals releases a flood of 'happy hormones' like serotonin, oxytocin, and dopamine, which promote feelings of well-being and joy. Petting and bonding with our animal pals trigger the release of these mood-boosting chemicals.

Pets aren't just companions; they're a source of comfort, motivation and support. Their remarkable benefits can help us lead happier and mentally healthier lives.

An Post Insurance Pet Insurance includes a 24-hour helpline, which is operated by The Vet Connection 365 days a year. It gives policy holders access to their national network of Royal College of Veterinary Surgeons-registered veterinary nurses. Policy holders can call one of their registered veterinary nurses on 01 913 1067 for advice at any time.
If you're in the market for Pet Insurance, why not get a quote today by clicking on the link below.

An Post Insurance Pet Insurance is arranged and administered by Cover-More Blue Insurance Services Limited and underwritten by H.W. Kaufman Group Europe BV, trading as Cranbrook, on behalf of the insurer, Sava Insurance Company.

All the information on this blog is published in good faith and for general information purpose only. While An Post Insurance makes every effort to ensure that the information appearing on this blog is accurate and complete, it does not make any warranties about the completeness, reliability or accuracy of this information, whether express or implied, including but not limited to implied warranties of merchantability, fitness for a particular purpose or non-infringement. Any action you take upon the information you find on this blog is strictly at your own risk. An Post Insurance will not be liable for any direct, indirect or consequential losses and/or damages in connection with the use of, or action taken in reliance on information contained in our blog.
Through this website you are able to link to other websites which are not under the control of An Post Insurance. We have no control over the nature, content and availability of those sites and if you click on links to these websites you will be subject to the terms and conditions of those sites. The inclusion of any links does not necessarily imply a recommendation or endorse the views expressed within them.