We're Human About Insurance
Make sure you're covered for the unexpected with our Third Party, Fire and Theft insurance. An Post Insurance is a 100% Irish-owned company, so we understand what matters most to you.
How we Help

Wallet-Friendly Protection
We know that everyone wants to get value from their car insurance, so we offer competitive prices and an online discount (1) to help lower the cost of cover.

Stress-Free Cover
Excellent cover is what we do, with many benefits included as standard. We work with a number of insurers in the market so we can help you find a policy that suits your needs.

Benefits and Bonuses
Our insurers provide care as well as cover, offering 24/7 Breakdown Assistance as standard, available in Ireland, Northern Ireland, England, Scotland and Wales.

Real Customer Care
We're powered by people just like you, living in communities all over Ireland. Our team is available six days a week - you can trust us to get the help you need, when you need it.
1) Acceptance criteria, T&Cs apply subject to a minimum premium of €355 or €325, depending on the policy underwriter for car insurance. Discounts applied consecutively, new business only and will not be available at subsequent renewals.
Features and Benefits
Our Third Party, Fire and Theft policy helps to protect you in case your car is burned or stolen, and if you're at fault in an accident, it covers damage to others and their property (2). We also include extra benefits like 24-hour Breakdown Assistance, so we'll be there when you need us most (3).

Breakdown Assistance
Help is just a phone call away with our 24 Hour Breakdown Assistance service, available in Ireland and the UK (3).

Windscreen Cover
Make sure you can see clearly with unlimited windscreen cover with AIG and FBD policies when you use our insurers' aligned repairer network (4).

Discount for No Penalty Points
Our insurers reward safe driving by offering a discount to drivers and named drivers who have appropriate licences and haven't incurred penalty points for driving offences in the Republic of Ireland. (5)

Customisable Cover
You can make sure your insurance works for you by purchasing any of the additional upgrade options such as Keycare, which covers lost or stolen keys up to €1,500 per annum for just €12.60 (incl. government levy) for the year (6).
2) Please refer to our policy booklets for full cover details and terms and conditions that apply. Discounts, cover limits, and terms and conditions are dependent on your car insurance underwriter and those applicable to you will be outlined in your policy documents.
3) The driver must remain with the car.
4) Applies to third party fire & theft and comprehensive AIG policies and FBD policies; applies to comprehensive Aviva policies only. Can be added to Aviva third party fire & theft policies at an additional charge.
5) Available on AIG and Aviva car insurance policies only.
6) This option is subject to an additional charge; it is not necessary to purchase this upgrade in order to purchase the policy. Keycare is administered by Keycare Assistance Limited and underwritten by MAPFRE ASISTENCIA Compania Internacional De Seguros Y Reaseguros, S.A., trading as MAPFRE ASSISTANCE Agency Ireland.
Is Third Party, Fire and Theft Insurance Right for Me?
The answer to this question depends on a number of factors, such as the replacement value of your vehicle, the year / age of your vehicle, and what's affordable to you right now. The premium for Third Party, Fire and Theft Insurance is usually cheaper than Fully Comprehensive cover, but it also means you could be out of pocket for the cost of repairs to your own car. Learn more about our car insurance benefits here.
We value your feedback
I had the pleasure of dealing with a lovely man about my House Insurance. He was so helpful and made the process so easy. I will definitely be using An Post Insurance again for Insurance and other services. Very nice experience. Thank you. Bronagh 14.12.2022
Good to Know
We've gathered together all the details you need to better understand your Third Party, Fire and Theft insurance options. Take a look at our FAQs and learn more about how we can help you get the cover you deserve, at the price you prefer.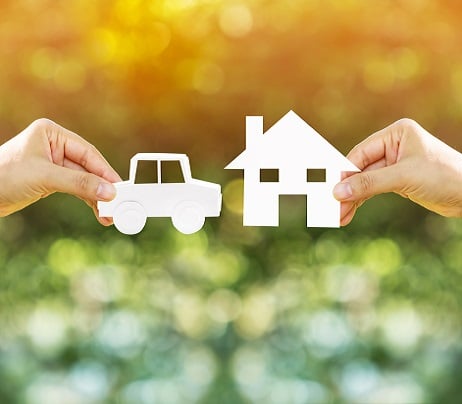 15% off** Car & Home Insurance
Plus, you could get a free Annual Multi-Trip European policy when you take out a car & a home policy with us & both policies are underwritten by Aviva Insurance Ireland DAC**.
**Discounts applied consecutively and subject to a minimum premium of €355 or €325, depending on the policy underwriter for car insurance, €240 for home insurance and €120 for Contents Only. This offer is applicable to An Post Insurance policies underwritten by Aviva Insurance Ireland DAC. You will get a 15% discount on the second policy you take out. Once this policy is set up, you'll be eligible for one year free multi-trip European travel insurance. When your first policy is due for renewal you will be eligible for the 15% discount for that policy. Full terms and conditions can be found on our promotions page.