5 Simple Tips to Make Your Home Classroom-Friendly
We understand that it can be a challenge these days, trying to juggle work life, home life and school life under one roof. The good news is that there are a couple of ways that could make things a little less stressful — read on for five simple tips to help ease the transition from home to classroom.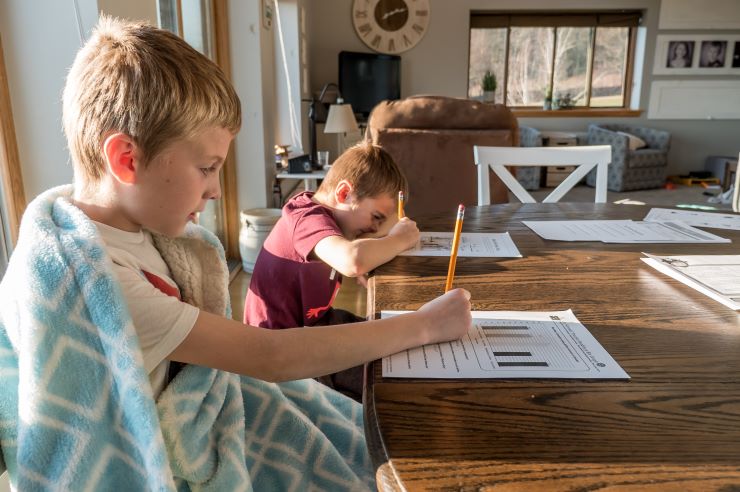 Choose the right workspace
It's important to choose the right workspace. A nice, bright spacious area is ideal, if possible. Try to keep school and home separate to help keep little ones focused during their school day. Fun, educational posters can help to set the scene and it might be a good idea to have your child wear their school jumper while they're doing their schoolwork. That way, once they tidy up their work area and change their clothes, they know the school day is done.
Alternate work areas
For smaller children it could help to alternate their work areas for a change of scenery. You could set up different spaces for different activities. For example, if you have a low, wide windowsill, perhaps make a window seat with cushions and a blanket for your child to use as their reading corner. Or, if you have the space, set up a tent in the sitting room with a sheet and chairs. Put cushions and blankets inside to create a fun setting for reading time.
Keep a routine
Just like us adults during our workday, a routine is a great way to help keep kids stay focused. Keep the same bedtime routine and make that packed lunch you used to make when they were in school. In the morning, set up the working tools required for the day, making sure your child has everything they need to hand, rather than being distracted going off to search for a ruler or a pencil mid-lesson. If your child doesn't already have a timetable, you could make one up that suits your family's routine. Even if you only intend to work until lunchtime, structure it so they know when they're supposed to be doing a particular subject or activity.
Control snacking
It's very easy to keep making trips to the fridge or treat press when we're at home. Not only could this distract our kids — and us —from the work at hand, it's also not the healthiest habit to get into. Why not make snacking part of the timetable you prepare? Perhaps you could include a small, healthy snack at breaktimes or maybe a treat at the end of the day for a job well done.
Introduce a reward system
We all need that proverbial carrot dangling in front of us to keep us motivated. Kids are no different. A reward system could help motivate them to get their work done without too much stress on them — or you! Every child has different interests and passions. Make the reward system work around their individual interests. Celebrate the small wins as well as the big ones. You could use a point system or marbles in a jar, for something more visual. After each lesson is complete and the child has stayed focused, they get a point or a marble to put in their jar. Set up your point system to suit the needs of your child/children and let them know what the points or marbles can get them at the end of the week. It could be extra screen time or even pocket money to help them save up for those new football boots, dance shoes or whatever they may be interested in.
All the information on this blog is published in good faith and for general information purpose only. While An Post Insurance makes every effort to ensure that the information appearing on this blog is accurate and complete, it does not make any warranties about the completeness, reliability or accuracy of this information, whether express or implied, including but not limited to implied warranties of merchantability, fitness for a particular purpose or non-infringement. Any action you take upon the information you find on this blog is strictly at your own risk. An Post Insurance will not be liable for any direct, indirect or consequential losses and/or damages in connection with the use of, or action taken in reliance on information contained in our blog.
Through this website you are able to link to other websites which are not under the control of An Post Insurance. We have no control over the nature, content and availability of those sites and if you click on links to these websites you will be subject to the terms and conditions of those sites. The inclusion of any links does not necessarily imply a recommendation or endorse the views expressed within them.