Beach Hazards for Dogs
All facts in this blog were provided by experts in The Vet Connection who operate the An Post Insurance 24 Hour Vet Helpline.
It's that time of the year again when we are dreaming of summer holidays and longing for a walk on the beach to feel the sand between our toes.  If you're bringing your much-beloved dog with you, here are a few important things to consider to keep them safe and happy.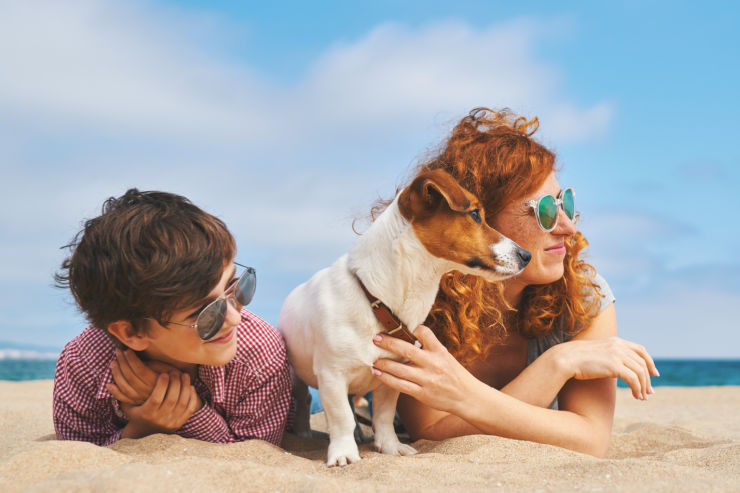 Have a Vet on Speed Dial
Firstly, find a local vet and save their details in your phone while you're away.  If you have an emergency, time can be critical, so you don't want to have to search for a vet.
Protect Any Wildlife
Be aware of your surroundings. Don't let your dog approach seals or chase wildlife.  Seals can give your dog a nasty bite and chasing birds may take your dog into a potentially dangerous situation.  It's no fun for wildlife either. Every calorie counts and any disturbance can prevent wildlife feeding and resting.  You should avoid using frisbees on the beach, too – if they get lost they can be a danger to seals.
Preserve the Puppy Power
Not all dogs are expert swimmers. Strong tides and currents can exhaust dogs quickly. Running on sand takes a lot more effort – it's a bit like running in deep snow – so keep your dog under control if you know they are likely to give chase.
Don't Eat the Sand
Some dogs will eat sand, often by accident while playing with sandy toys or balls. This can cause a blockage, known as sand impaction, and can be very serious. Symptoms may include vomiting, constipation, lethargy, dehydration and abdominal pain. Again, if any of these symptoms are seen after a visit to the beach then contact a vet straight away.
Beware of Fish Food
Strong winds and high tides increase the numbers of washed-up sea creatures. Some dogs love to eat dead stuff! Dead fish that have washed up on the beach may contain potentially deadly toxins. In some areas, deaths have occurred from Paralytic Shellfish Poisoning so keep your dog away from dead fish, crabs, clams, mussels, and starfish.
Don't Drink Sea Water
If your dog ingests salt water, either by drinking or licking their fur after a swim, the salt can cause vomiting. Rinse your dog with fresh water to clean their fur and if you suspect your dog may have saltwater poisoning contact a vet immediately.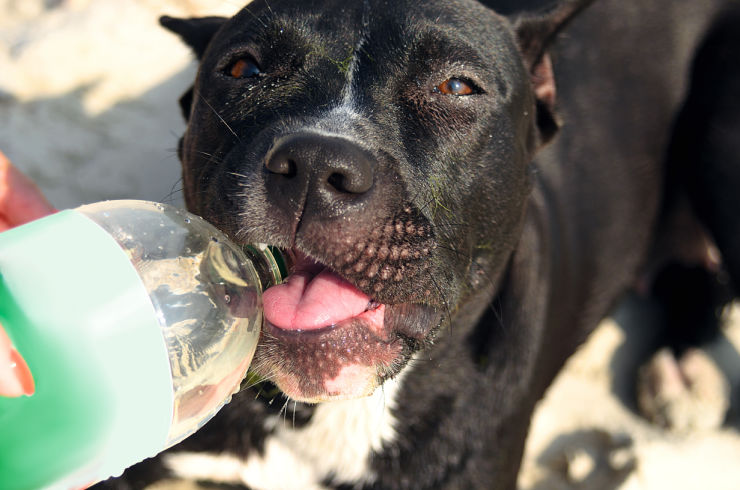 Be Careful of Fishing Tackle
Fishing waste and hooks can cause nasty injuries in the mouth, throat or stomach. If dogs sniff a tasty morsel of bait they may accidentally swallow hooks.
Avoid Palm Oil
Palm oil sometimes washes up on beaches and is extremely dangerous if swallowed. Again, if you suspect your dog has eaten or even licked palm oil contact a vet as soon as possible.
Take Care if it's Too Hot to Handle
The obvious hazard on the beach is heat. If that sand feels hot to your touch, then it is worse for your dog. Heatstroke or sunstroke can be life threatening so walk your dog before 9am or after 6pm to beat the heat. An umbrella on the beach is not going to keep your dog safe from heatstroke. Heed weather warnings and check tide times.
Enjoy your beach walk but always know where your dog is and what they are doing!
An Post Insurance Pet Insurance includes a 24 hour helpline, which is operated by The Vet Connection 365 days a year and gives policy holders access to their national network of Royal College of Veterinary Surgeons registered veterinary nurses. Policy holders can call one of their Registered Veterinary Nurses on 01 913 1067 for advice at any time.
If you're in the market for Pet Insurance, why not get a quote today by clicking on the link below.
An Post Insurance Pet Insurance is arranged and administered by Blue Insurance Limited and underwritten by H.W. Kaufman Group Europe BV, trading as Cranbrook, on behalf of the insurer, Sava Insurance Company.
All the information on this blog is published in good faith and for general information purpose only. While An Post Insurance makes every effort to ensure that the information appearing on this blog is accurate and complete, it does not make any warranties about the completeness, reliability or accuracy of this information, whether express or implied, including but not limited to implied warranties of merchantability, fitness for a particular purpose or non-infringement. Any action you take upon the information you find on this blog is strictly at your own risk. An Post Insurance will not be liable for any direct, indirect or consequential losses and/or damages in connection with the use of, or action taken in reliance on information contained in our blog.
Through this website you are able to link to other websites which are not under the control of An Post Insurance. We have no control over the nature, content and availability of those sites and if you click on links to these websites you will be subject to the terms and conditions of those sites. The inclusion of any links does not necessarily imply a recommendation or endorse the views expressed within them.