Let's Recycle for Christmas
Christmas is busy for everyone, with lots of presents, post and food arriving into the house. This makes it a great opportunity to really boost our recycling efforts — helping to save our planet, one bit of plastic or paper at a time.
The Irish Mirror thinks that we might see a white Christmas this year, for the first time in 12 years. But instead of dreaming of a white Christmas, how about we make it a green Christmas instead? Let's have a look at how we can make this festive season more environmentally friendly.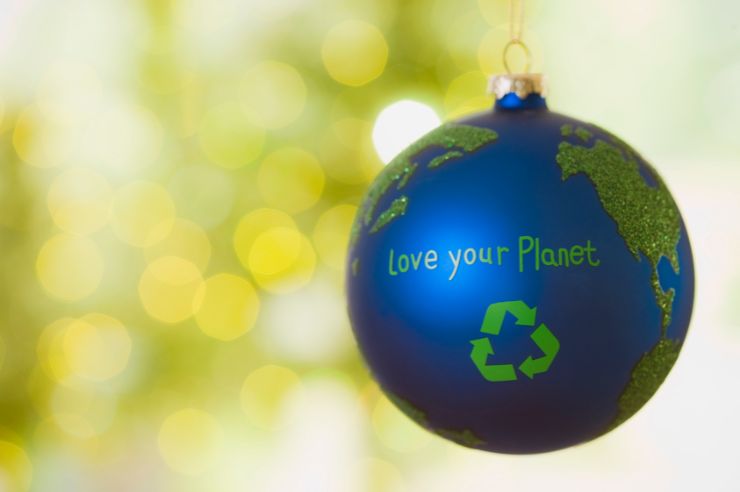 Christmas Cards
If you still enjoy the tradition of sending physical Christmas cards, why not go for fully recyclable cards? Most of us love a bit of glitz but keep in mind that little extras such as gems, glitter or ribbon cannot be recycled so it's better to skip these and go for paper-based cards and envelopes. Nowadays lots of charities benefit from the sale of Christmas cards, so if you do a little research you could help to support a good cause while also using recyclable materials.
Wrapping Paper
Mywaste.ie tells us that most wrapping paper is made from light card or printed paper. Others like shiny or metallic gift wrap are manufactured with plastic. As soft plastics are now recyclable it's ok to place all wrapping paper in your household recycling bin. If you use Sellotape to wrap your presents, this will need to be removed and placed in general waste as it's non-recyclable. In order to be even more eco-friendly, try to remove wrapping paper carefully so you can use it year after year. For more tips, check out.
Christmas Tree Lights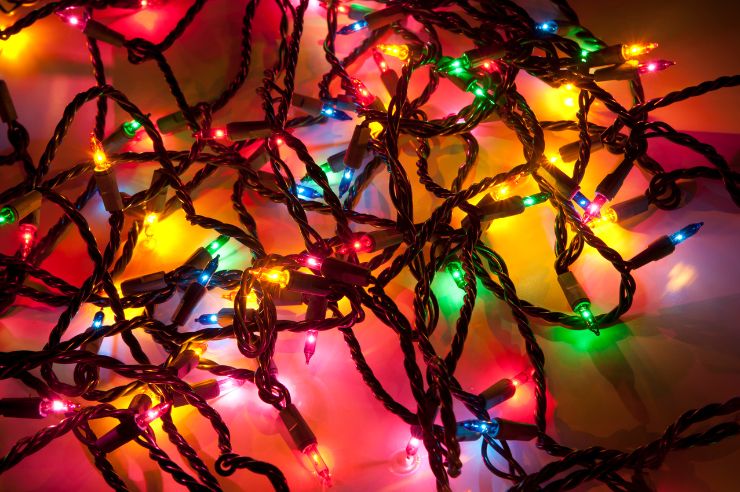 Do you ever struggle to unravel your Christmas tree lights only to discover they're no longer working? If you need to get rid of old lights make sure you take them to a Waste Electrical and Electronic Equipment (WEEE) drop-off recycling point or Civic Amenity site. Electrical items cannot be placed in your recycling bin at home. You can find your nearest drop off point here.
Christmas Decorations
Christmas decorations can be made from every type of material, from wood to plastic, all the way to glass. Unless they are made from one single material i.e. paper, card or rigid plastic then they cannot be put in household recycling. If you don't know what your decoration is made from, it's safer to put it in general waste. If it has a plug or is battery powered, then it's considered electric and should be disposed of the same way as Christmas tree lights - see above.
Batteries
All old batteries can be recycled but they shouldn't go into the household recycling bin. Most shops that sell batteries will have a collection point where you can bring back your old batteries to be recycled. You could also take a trip to your local Civic Amenity site where the staff will be happy to take them off your hands.
Post-Christmas Present Packaging
Most packaging is made of cardboard, paper or soft plastic (soft plastic is any type of plastic that you can scrunch in your hand). All of which can be recycled in your household recycling bin once they are clean dry and loose in your bin. MyWaste.ie advise that if paper or card become wet or dirty on its way to the sorting facility it may not be recycled. For some of the larger packaging you may have that will not fit in your bin, it can be brought to your local civic amenity site found waste services locator.
If there are any other items you are unsure how to recycle, log on to Mywaste.ie and simply search for that item.
So, whether we have a white Christmas this year or not, let's make it as green as possible in our homes. Now all that's left to do is sit back, relax and see what Santa brings — but don't forget to recycle where you can!
All the information on this blog is published in good faith and for general information purpose only. While An Post Insurance makes every effort to ensure that the information appearing on this blog is accurate and complete, it does not make any warranties about the completeness, reliability or accuracy of this information, whether express or implied, including but not limited to implied warranties of merchantability, fitness for a particular purpose or non-infringement. Any action you take upon the information you find on this blog is strictly at your own risk. An Post Insurance will not be liable for any direct, indirect or consequential losses and/or damages in connection with the use of, or action taken in reliance on information contained in our blog.
Through this website you are able to link to other websites which are not under the control of An Post Insurance. We have no control over the nature, content and availability of those sites and if you click on links to these websites you will be subject to the terms and conditions of those sites. The inclusion of any links does not necessarily imply a recommendation or endorse the views expressed within them.