Travel Safety Tips
It's always good to have that proverbial carrot dangling in front of us, something to look forward to. What could be better than a break away with friends or loved ones. Unfortunately some can be unlucky and become ill whilst travelling or have unfortunate events occur during their stay. So what can we do to try to avoid such events?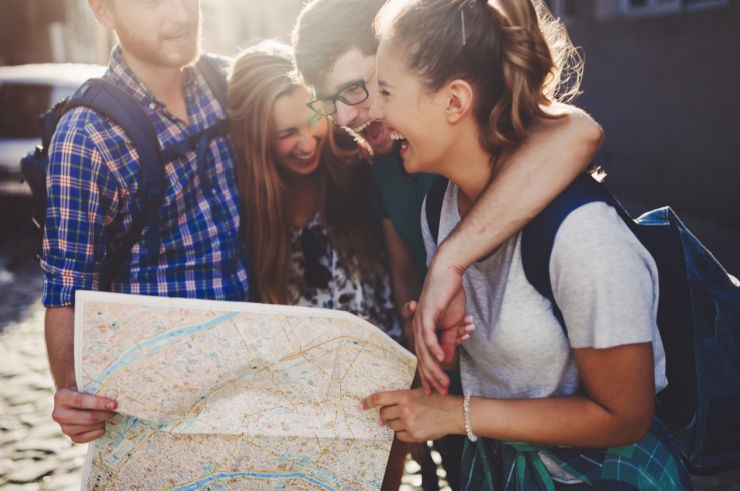 Here are some helpful travel safety tips to keep in mind to ensure your trip is a safe and enjoyable one.
Travel Insurance
It is always better to" have something and not need it, than need it and not have it". An Post Insurance offer an attractive Travel Insurance policy to cover against losses such as damaged or delayed luggage, cancelled flights, delayed or missed departure, loss or theft of money or passport, and illness or injury. Any health issues whilst abroad can prove to be quite costly so it is worth having insurance and ensuring your European Health Insurance Card (EHIC) is up to date if travelling within the EU. This can save you quite a bit of money if you are unlucky enough to become ill while on holidays
Research Weather Conditions
Make sure you research your destination. It's very important to be aware of the type of climate you should expect so you can be prepared.
Research Etiquette
If you are travelling to a country with strict religious views, it is best to check the dress code in certain areas and make yourself aware of what behaviour is expected to make sure you do not cause offense, or even worse, get yourself arrested.
Advice from the Locals
You should also research the places 'not to go' to ensure you and your friends/family are travelling safely. You should ensure to seek local advice on how to manage in the case of emergency. Obviously in the unlikely event of an emergency it is imperative to co-operate with local authorities and emergency services.
Secure your Belongings
In the first instance, as much as you might be tempted to look your best at all times on your holidays, it's best not to take expensive jewels with you for your own security. The least you bring with you, the least that can be taken from you. When out and about try not to attract the wrong kind of attention.
Avoid Pick Pockets
Local markets can be notorious for pick-pockets so be extra careful where you store your money and valuable belongings. Carrying your belongings to your front is safer than hanging a bag over your shoulder or to your back. Thieves could have your belongings removed from your bag or wallet in the blink of an eye. Be aware that just because you have your wallet in a pocket that is zipped or closed with Velcro, that doesn't necessarily mean it's safe. These guys have a lot of experience and would have your wallet whipped out without you feeling a thing so hold on tight!
Hotel Safe
If your hotel offers a "safe" service make sure to avail of same to keep your money and valuable belongings safe.
Holiday Funds
To make sure you don't end up short of funds, a good idea would be to let your bank know where you are travelling to, and the dates, so you can use your bank cards without fear of the bank freezing them thinking they were hacked or stolen. Make sure to carry local cash with you as not everywhere will take credit/debit cards like at home.
Document Safety
Take copies of your passport, front and back of your credit, debit and prepaid ATM cards, traveller's cheques and other travel documents. Keep a set of the copies in your luggage whilst travelling and in the hotel safe if available during your stay. If any documents get stolen, you can take a copy to your local embassy.
Safety at Night
When it comes to going out at night-time, again make sure you have researched the safest places for tourists to visit so you can avoid anywhere that may be prone to violence. Night-time is more likely to be a time when people are drinking alcohol in excess. Whether it's enjoying their holiday, or locals relaxing after a hard days' work. Make sure you drink alcohol responsibly to avoid any accidents or getting yourself into sticky situations.
Make a Plan
If your accommodation is not close by, ensure you have planned a way home before you head out for the night. If you are staying in a hotel, ask assistance from the hotel Manager or local staff to advise on safe modes of transport home to ensure you are not placing you or your family/friends at risk. Never put yourself in the situation that you are walking alone at night in dark unsafe areas.
Safety in Numbers
The majority of time you will find there is safety in numbers. If you are travelling with a group, always ensure you stick together and have a plan if anyone should split from the group. Always make sure you are not leaving anyone behind, leaving them more at risk to getting in trouble. Perhaps advise everyone to keep the address to your accommodation in both English and the native tongue in your phone's notes.
And the most important thing is to sit back, relax and make the most of every minute of your holiday.
For a An Post Insurance Travel Insurance quote from our Underwriters Chubb European Group SE, please click here.
All the information on this blog is published in good faith and for general information purpose only. While An Post Insurance makes every effort to ensure that the information appearing on this blog is accurate and complete, it does not make any warranties about the completeness, reliability or accuracy of this information, whether express or implied, including but not limited to implied warranties of merchantability, fitness for a particular purpose or non-infringement. Any action you take upon the information you find on this blog is strictly at your own risk. An Post Insurance will not be liable for any direct, indirect or consequential losses and/or damages in connection with the use of, or action taken in reliance on information contained in our blog.
Through this website you are able to link to other websites which are not under the control of An Post Insurance. We have no control over the nature, content and availability of those sites and if you click on links to these websites you will be subject to the terms and conditions of those sites. The inclusion of any links does not necessarily imply a recommendation or endorse the views expressed within them.