We're Human About Insurance
An Post Insurance is 100% Irish-owned, so we understand what matters most to you. Our combined Buildings and Contents Insurance has all the cover that you would need to protect what's important, with optional benefits available.
What's covered in Buildings & Contents insurance?
Features and Benefits
We're proud to help our customers protect their no claims discount, even if the unexpected happens. You can even upgrade your policy with extras such as Family Legal Protection (1), for added peace of mind.
1) Family Legal Protection is available as an optional extra on your Home Insurance policy, at a cost of just €15 per policy. It is not necessary to purchase this optional extra in order to purchase a Home Insurance policy. This cover is underwritten by ARAG Legal Protection Limited.

Fire Brigade Services
We'll be there to help should the worst happen, covering up to €1,500 of call-out charges if the Fire Brigade Service is called to attend your emergency.

Protected No Claims Discount
We understand that your no claims discount is important to you, so with us, you can make one claim up to €10,000 in a three-year period without losing your no claims discount.

Home Emergency Assistance
Help is just a phone call away with our Home Emergency Assistance service. We will provide a repair service to secure your home and help prevent further damage from occurring. (2)

Alarm Discounts
Safeguard your home with an approved burglar alarm and enjoy a 12.5% discount. If you install and maintain a Smartzone Home Alarm System, you'll be entitled to an 18% discount. (3)
2) If you have an emergency in your home, we will provide a repair service to secure your home and help prevent further damage from occurring. Cover for up to €260 per incident, limited to 3 claims per policy year. This cover is underwritten by MAPFRE ASISTENCIA Compania Internacional De Seguros Y Reaseguros, S.A., trading as MAPFRE ASSISTANCE Agency Ireland.
3) Discounts are applied consecutively and are subject to a minimum premium of €240 or €120 for Contents only. Must be fitted to EN50131 (old IS199) standards and installed by an intruder alarm company approved by the National Standards Authority of Ireland. The installer should hold a P.S.A. (Private Security Authority) licence.
We value your feedback
It was so easy and straightforward. The agent was lovely and very professional. No list of questions, unlike other companies I have dealt with. Quick and to the point. No time wasting which I'm grateful for. Will be back again! Eileen 30.11.2022
Good to Know
We've gathered together all the details you need to better understand your home insurance options. Take a look at our FAQs and learn more about how we can help you get the cover you deserve, at the price you prefer.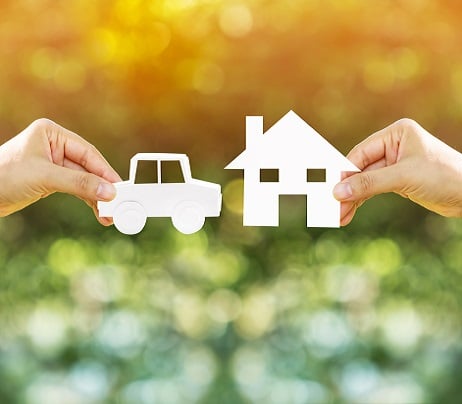 15% off** Car & Home Insurance
Plus, you could get a free Annual Multi-Trip European policy when you take out a car & a home policy with us & both policies are underwritten by Aviva Insurance Ireland DAC**.
**Discounts applied consecutively and subject to a minimum premium of €355 or €325, depending on the policy underwriter for car insurance, €240 for home insurance and €120 for Contents Only. This offer is applicable to An Post Insurance policies underwritten by Aviva Insurance Ireland DAC. You will get a 15% discount on the second policy you take out. Once this policy is set up, you'll be eligible for one year free multi-trip European travel insurance. When your first policy is due for renewal you will be eligible for the 15% discount for that policy. Full promotion terms & conditions can be found here.
An Post Insurance Home Insurance is underwritten by Aviva Insurance Ireland DAC.