Smarter, Greener Homes with An Post Insurance
An Post Insurance has been helping to protect Irish homes since 1999. In that time, we've seen lots of changes, as we've gone from videos, walkmen and dial-up modems to robot vacuum cleaners and AI assistants like Alexa.
Even the dreaded immersion has lost some of its terrifying power now that we're able to regulate our energy use with technology. With gas, electricity and fuel prices rising every day, it's more important than ever that we work to make our homes as energy efficient as possible. In this blog post, we take a look at how making our houses smarter and greener can help to benefit our pockets as well as the planet.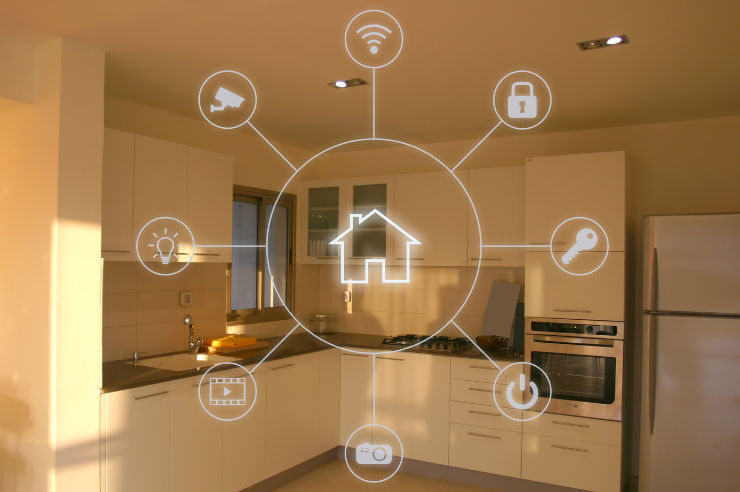 Lower Energy Bills
Smart home technology allows you to control your heating and energy management, to monitor water usage, and to automate your home lighting, power outlets or security system. It's usually operated remotely via a smartphone or computer, commanding a range of appliances from your home heating to smart TVs, kettles and curtains.
These advances don't just make life easier, they can make it cheaper too. Many systems allow for automation to ensure heating goes on or off when the home reaches a certain temperature. Zoned areas also mean you don't have to heat the whole house if you're only going to use one area, while other smart light bulbs tend to be more efficient, using less energy than old-fashioned versions. All of this offers householders more control over their energy consumption, helping to keep costs down. Estimates vary across providers, but Google calculates that their Nest thermostat saves Irish users around 9.6% to 18.1% compared to standard heating systems.
Discounts & Grants
The savings don't stop at your utility bills, though — many energy providers supply their own smart technology, with package deals available for systems, meters, and price plans. Some offer free devices such as an Amazon Echo Dot or a complimentary service for new customers, so it's worth researching what's available. The website Switcher.ie can help you compare the various plans and discounts on the market.
If you're thinking of investing in smart technology, there is a grant available from the Sustainable Energy Authority of Ireland (SEAI) to help you manage the cost of installing heating controls in your home. All homeowners, including landlords, whose homes were built and occupied before 2011 can apply for a grant of up to €700. If you want to further explore your journey to a more energy efficient, comfortable and sustainable home, visit our Parent Company, An Post's Green Hub. This handy resource supplies homeowners with need-to-know information and access to expert service providers and low-cost loans.
Reduced Risks at Home
Smart home technology also offers the comfort of helping to safeguard our homes from common risks. For example, many homeowners use software, devices, or apps that allow them to speak to visitors via a doorbell camera, or turn on lights automatically, helping them to keep their house safe, even when they're on holidays. Some devices can also create line-crossing alerts, which is a facility that can automatically set or unset your house alarm depending on your location.
Sometimes personalised usage charts or reports can offer an early indication of an otherwise invisible problem, such as an inefficient heating system or damaged pipes. More elaborate smart home systems can warn you, or even automatically shut off the water valves if a major leak occurs.
While advance warning can help a homeowner take preventative action, specific event insured exclusions and general policy exclusions of a home insurance policy would still apply (regardless of any smart home technology). As always, it's important that homeowners take the time to ensure they have the right protection in place.
Benefits to the Environment
Most of us are aware that we need to do our bit to tackle climate change and that starts at home. A recent survey by broadband provider SIRO found that two thirds (63%) of respondents believe that the energy saving and environmental benefits are the most important factors of smart homes.
Smart home systems help to protect the environment by curtailing excess energy use, monitoring for loss of water and making us more aware of our daily energy consumption. Some providers are taking this a step further, using the technology to let users draw from more renewable energy resources where possible. Google is currently trialling their Nest Renew programme, for example, which helps homeowners choose the most environmentally friendly times to run the washing machine, water the garden or take a hot shower. ​​Hive EV Charging allows electric vehicle drivers to automatically charge their cars when the rate is at its lowest, putting less pressure on the power grid.
Lower Insurance Costs
Some insurers offer preferential insurance rates to those customers who include specific smart devices in their smart home. If you install and maintain a Smartzone Home Alarm System, for example, you'll be entitled to an 18% Home Insurance discount with An Post Insurance* - which is the highest alarm discount available from the insurer.
Here at An Post Insurance, we're human about insurance. That means we understand that your home is your safe haven, and we're here to make sure it stays that way. Learn more about our fantastic range of Home Insurance cover options, features and benefits by watching our quick video below. We'll keep our promise to help you protect your home.
An Post Insurance Home Insurance is underwritten by Aviva Insurance Ireland DAC.
*Discounts are applied consecutively and are subject to a minimum premium of €240 for buildings and contents or €120 for Contents only. Must be fitted to EN50131 (old IS199) standards and installed by an intruder alarm company approved by the National Standards Authority of Ireland. The installer should hold a P.S.A. (Private Security Authority) licence.
All the information on this blog is published in good faith and for general information purpose only. While An Post Insurance makes every effort to ensure that the information appearing on this blog is accurate and complete, it does not make any warranties about the completeness, reliability or accuracy of this information, whether express or implied, including but not limited to implied warranties of merchantability, fitness for a particular purpose or non-infringement. Any action you take upon the information you find on this blog is strictly at your own risk. An Post Insurance will not be liable for any direct, indirect or consequential losses and/or damages in connection with the use of, or action taken in reliance on information contained in our blog.

Through this website you are able to link to other websites which are not under the control of An Post Insurance. We have no control over the nature, content and availability of those sites and if you click on links to these websites you will be subject to the terms and conditions of those sites. The inclusion of any links does not necessarily imply a recommendation or endorse the views expressed within them.