Get great value car insurance at a great price.
Car insurance can be complicated, but it doesn't have to be. We're human about insurance, meaning you can find great value cover at a competitive price. But it's important to remember that the cheapest option isn't always the right choice. When you're insuring your car, you want to choose a policy that offers value for money and good protection rather than the lowest price. Normally what you're saving in cost, you lose on cover. You should look for an affordable policy that offers the best of both worlds! We're with you on your journey, offering car insurance with great benefits that are worth the cost.
An Post Insurance Car Insurance
We know the NCT is a worry for our customers, but it's normal to be concerned about whether your car will pass or fail. We've teamed up with the experts in car maintenance, BestDrive by Continental, to get their advice on how you can pass the test the first time 'round.
What benefits can you find with An Post Insurance?
Still not sure about the right car insurance policy for you? We've gathered all the details you need to better understand the cover options available. Check out our car insurance FAQs and learn more about our pocket-friendly affordable cover.

Breakdown Assistance
Help is just a phone call away with our 24 Hour Breakdown Assistance service, available in Ireland and the UK (5).

No Claims Discount Protection
We know how important your No Claims Discount is, so you won't lose your discount for fire, theft or attempted theft, or windscreen claims. You can add an optional extra to fully protect your No Claims Bonus at an additional charge.

Windscreen Cover
Make sure you can see clearly with unlimited windscreen cover when you use our insurers' aligned repairer network (6).

Discount for No Penalty Points
Our insurers offer a discount to drivers and named drivers who have appropriate licences and haven't incurred penalty points for driving offences in the Republic of Ireland (7).
5) The driver must remain with the car.
6) Applies to third party fire & theft and comprehensive AIG policies and FBD policies; applies to comprehensive Aviva policies only. Can be added at an additional charge to Aviva third party fire & theft policies.
7) Available on AIG and Aviva car insurance policies only.
We value your feedback
I had the pleasure of dealing with a lovely man about my House Insurance. He was so helpful and made the process so easy. I will definitely be using An Post Insurance again for Insurance and other services. Very nice experience. Thank you. Bronagh 14.12.2022
Top 5 FAQs
We've gathered together all the details you need to better understand your policy cover options. Take a look at our car insurance FAQs and learn more about how we can help you get the cover you deserve, at the price you prefer. Need to know more?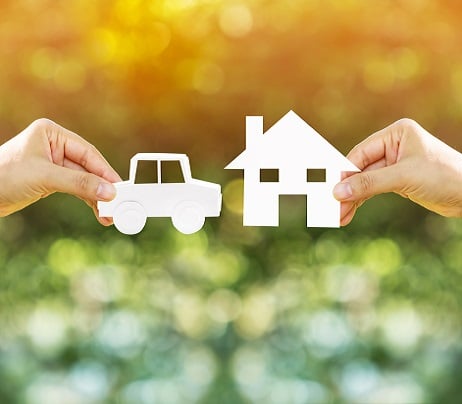 15% off** Car & Home Insurance
Plus, you could get a free Annual Multi-Trip European policy when you take out a car & a home policy with us & both policies are underwritten by Aviva Insurance Ireland DAC**.
**Discounts applied consecutively and subject to a minimum premium of €355 or €325, depending on the policy underwriter for car insurance, €240 for home insurance and €120 for Contents Only. This offer is applicable to An Post Insurance policies underwritten by Aviva Insurance Ireland DAC. You will get a 15% discount on the second policy you take out. Once this policy is set up, you'll be eligible for one year free multi-trip European travel insurance. When your first policy is due for renewal you will be eligible for the 15% discount for that policy. Full terms and conditions can be found on our promotions page.